Creative Learning. Children must be 4 years old on or before Sept. 1 on the current school yr to be elegible. Full & part time VPK enrollment available.
Call now and schedule a tour today.
Creative Learning. Prepare for kindergarten. Full time & part-time free pre-K (VPK) enrollment. Highly qualified teachers. The perfect mix of education and fun.
Call & schedule your tour.
Pre-School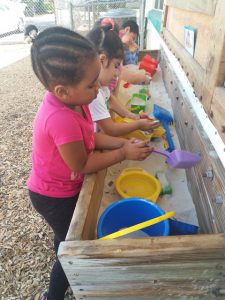 The environment is well planned and includes a rich variety of learning centers. Teachers in the pre-school classes work in interesting units and send home daily progress reports.
Learning is exciting and fun for the pre-school child enrolled at Creative Learning Experience. The theme-based curriculum is focused on developing the total child. Children explore language, science, mathematics, drama, music, art, reading, writing and cooking.
Voluntary Pre-Kindergarten- VPK
For children who turn 4 years old before Sept 1st.
The environment in our specially designed Pre-Kindergarten classes is planed around learning centers which help to complement the theme based curriculum. Our Pre-K classes are carefully designed to prepare children to succeed thought out their school years. Our teachers are well prepared to provide children with the latest requirements of the Florida Department of Education Standards.
CLE performs two Pre-K assessments throughout the school year. These assessments help to determine the strengths areas and those that are still developing. The results are discussed with the parents and together parents and teachers develop a plan to help children reach their full potential.